Agrobacterium-Mediated Transformation of Cry8db Gene in Vietnam Sweet Potato Cultivar
Pham Bich Ngoc, Vu Thi Lan, Tran Thu Trang, Nguyen Hoai Thuong, Le Thu Ngoc, Chu Hoang Ha, Le Tran Binh
Published: 28 June 2015
1. Institute of Biotechnology, Vietnam Academy of Science and Technology, 18-Hoang Quoc Viet, Cau Giay, Ha Noi
2. College of Science, Thai Nguyen University, Tan Thinh, Thai Nguyen
3. University of Science and Technology of Ha Noi, 18-Hoang Quoc Viet, Cau Giay, Ha Noi, Vietnam
Received: May 29, 2015 / Accepted: June 22, 2015 / Published: June 30, 2015.
Abstract: Sweet potato [Ipomoea batatas (L.) Lam.] is an important food crop in the world as well as in Vietnam. It is well known as a recalcitrant crop for gene transformation and tissue culture because of its genotype dependent in vitro responses. In present study, Agrobacterium-mediated transformation of cry8Db from Bacillus thuringiensis into KB1 sweet potato variety has been studied.
The C58cv strain carrying a pBI121 backbone which contained cry8Db delta-endotoxin gene regulated under 35S CaMV promoter, and the selection marker gene, neomycin phosphotransferase (nptII) gene, was subjected for plant transformation. Callus induced from shoot tips and leaf explants were inoculated and cocultured with A. tumefaciens. The selection occurred during callus producing and plant regenerating steps. A total of 201 transgenic putative plant lines were produced, and 21 transgenic lines were positively confirmed by PCR and finalized by Southern blot. Four putative transgenic lines confirming a single copy of the cry8Db gene were transferred into soil pots in greenhouse. Biological activity evaluation for the insecticidal capacity of these transgenic lines under controlled conditions showed that the level of infestation by sweet potato weevils (Cylas formicarius) in untransformed plants was higher than that of transgenic lines.
Key words: Sweet potato, Agrobacterium tumefaciens, plant transformation, cry8Db, sweet potato weevil resistance, cylas formicarius.
…..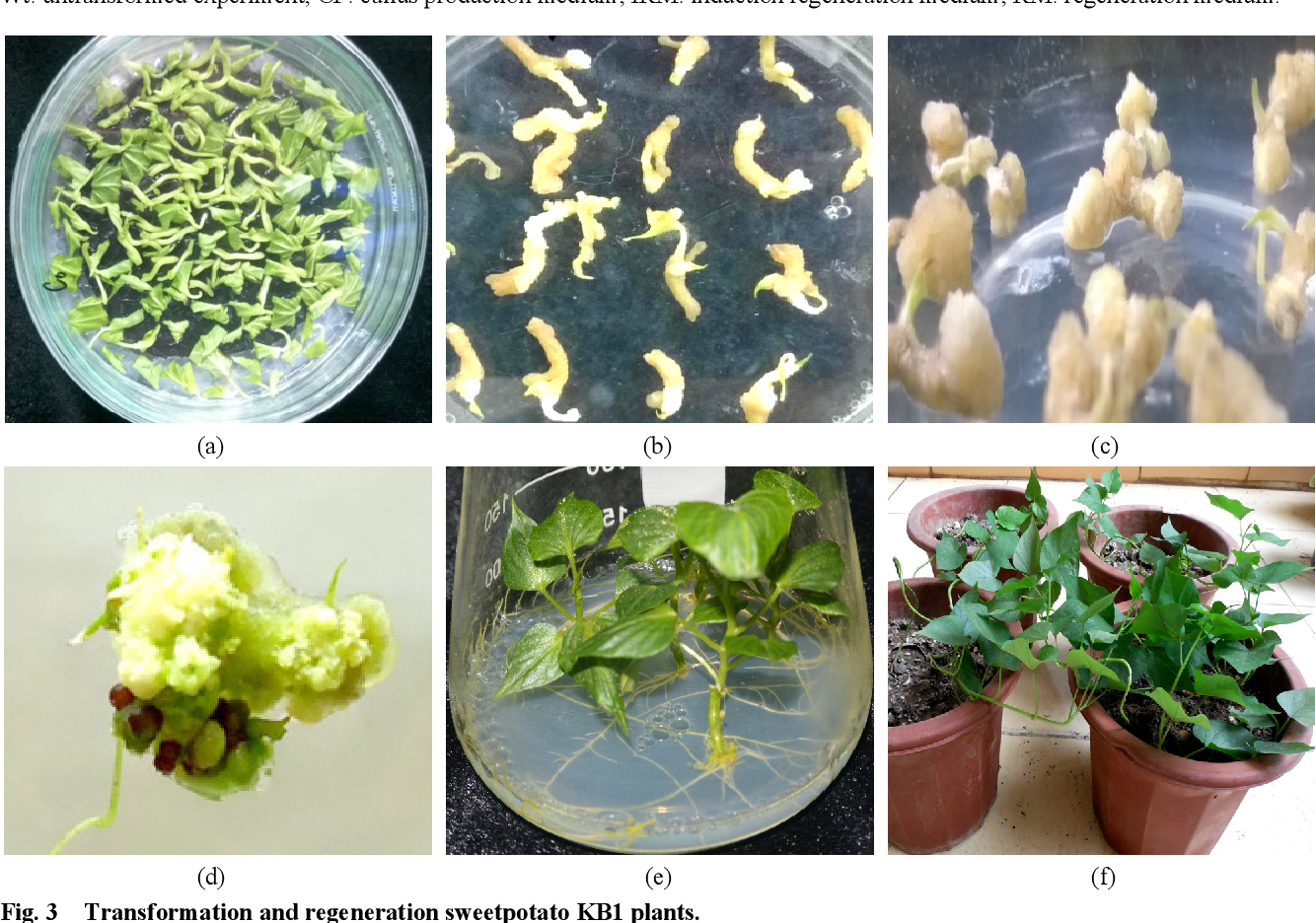 Read more:http://www.davidpublisher.org/index.php/Home/Article/index?id=17963.html
Share this article
dependent Regeneration and Agrobacterium?mediated Genetic Transformation of Sweet Potato (Ipomoea batatas L.)
Xing YuJun et al. African Journal of Biotechnology, 2007A Procedure for Agrobacterium tumefaciens Mediated Genetic Transformation of Sweet Potato
Patrick S. Michael Asian Journal of Advances in Agricultural Research, 2019
Improved Tolerance to Various Abiotic Stresses in Transgenic Sweet Potato (Ipomoea batatas) Expressing Spinach Betaine Aldehyde Dehydrogenase
Weijuan Fan et al. PLOS ONE, 2012
Agrobacterium-mediated transformation of potato with human lactoferrin gene
A. Yu. Buziashvili et al. Faktori eksperimental'noi evolucii organizmiv, 2019
Agrobacterium-mediated transformation of potato cv. Mnandi for resistance to the potato tuber moth (Phthorimaea operculella)
M.A. Veale et al. South African Journal of Botany, 2012
Regeneration of multiple shoots from transgenic potato events facilitates the recovery of phenotypically normal lines: assessing a cry9Aa2 gene conferring insect resistance
Sathiyamoorthy Meiyalaghan et al. BMC Biotechnology, 2011
Genetically Transforming Russian Potato Cultivars for Resistance to Colorado Beetle
Anastasia M. Kamionskaya et al. Cloning & Transgenesis, 2012
Development of Efficient Plant Regeneration and Transformation System for Impatiens Using Agrobacterium tumefaciens and Multiple Bud Cultures as Explants
Yinghui Dan et al. BMC Plant Biology, 2010
Effective Agrobacterium-mediated transformation protocols for callus and roots of halophyte ice plant (Mesembryanthemum crystallinum)
Hau-Hsuan Hwang et al. Botanical Studies, 2019
While we have made every effort to check licensing information, inaccuracies may remain and some articles may be incorrectly identified as open access or non-open access.
For questions or feedback, please reach us at support@scilit.net
© 2020 MDPI (Basel, Switzerland) unless otherwise stated